Citrus festival 2017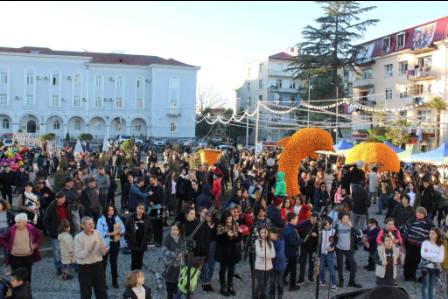 First time in Georgia, with the support of local government and organization of Agroservice centre on a main square of Kobuleti was held Citrus Festival 2017.
Festival attended Chairman of Ajara A.R., Zurab Pataradze, Minister of Agriculture of Ajara Avtandil Meskhidze, Major of Kobuleti and Mirian Katamadze.
The chaiman of Ajara A.R, Minister of Agriculture of Ajara, Mayor of Kobuleti and Director of agroservice centre rewarded with medals respected citrus agronom, best young citrus farmer in Kobuleti and Khelvachauri municipality.
On the event was presented citrus sculptures and various entertaining and sport games. Festive atmosphere were creating musical band Machakhela and choreographic ensemble Mkhedruli.