Garlic demonstration plots cultivated in mountainous Ajara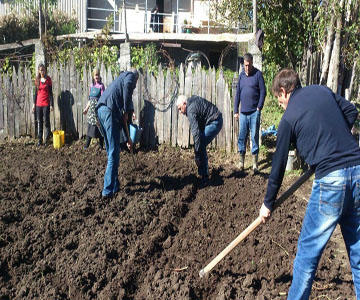 Within the frame of ENPARD Ajara program, Agro Service center starts cultivation of garlic demo plots in mountainous Ajara. Today, garlic cultivation on the land of farmer Bidzina Shavadze was attended by the first Deputy Minister of Agriculture of Ajara Ioseb Abuladze, Director of Agro Service Center Gocha Beridze and Head of Agrarian Committee of Ajara Supreme Court Merab Abashidze. Next year, 2 tons of Garlic harvest is expected on the 1 500 m2 territory owned by the farmer Shavadze. During these weak, 6 other Garlic demo plots will be opened in Keda, Shuakhevi and Khulo by Agro Service Center as well.
Within the frame of ENPARD Ajara program, productive and profitable breeds of Ukrainian garlic will be introduced on the above mentioned demo plots. 15 800 is the total budget of the program which started on November these year and will be finished on June of next year. The owners of Demonstration Plots, which were selected by the special committee, have been trained by the representative of garlic producer company from Ukraine regarding to the garlic cultivation and measures against the pests diseases in order to avoid further misunderstandings.