Mechanization investment process in Keda municipality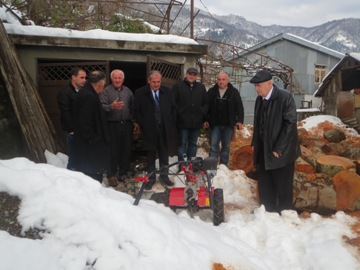 Today, Deputy minister of Ajara agricultural ministry Ioseb Abuladze and the project manager Jemal Katsitadze involved into mechanization investment process in Keda municipality. They acquaintanced technique working, demage and wear out reasons.
Project "Enpard Ajara" which is running with the initiative of N(N)LE Agro service Centre, aimed to improve technique service process, where farmers will be able to repair and equip the technique with the necessary parts. Ajara Agricultural Ministry with the part-financing is equipping the farmers with technique since 2008, but until now there is no technique service centers.
Batumi Shota Rustaveli state University professor Roman Margalitadze is participating in the project research to equip every municipality of Ajara with the technique investment. After research and proved methods, they will choose service units and optimal forms. Project will finish in summer 2017